Jellystone Park™ Franchise Offer
Whether you are converting, purchasing or building a campground, Leisure Systems Inc. has developed a franchise offer to make joining the Yogi Bear's Jellystone Park™ system even more enticing.
No initiation fee. (A savings of $20,000!)
A Conversion Package (valued at over $11,000) that includes: 10 foot Yogi Bear™ Statue, Yogi Bear™ Character Costume, Jellystone Park™ Entrance Sign Credit
Royalties of 6 percent are paid only on incremental gross revenues gained as a Jellystone Park™ after a Base Business Exclusion* is met. (There is a 1 percent Advertising royalty and .5 percent Club Yogi Rewards royalty applicable to all gross revenues.)
Access to profitable Yogi Bear™ merchandise to improve store sales.
Tools and Support for areas of

Merchandise

,

Operations

and

Marketing

.
Comprehensive training for the transition to a Jellystone Park™. Includes:

CAMP- Certification and Management Program
CARE- Caring About Recreation and Entertainment

A proprietary reservations, front office and POS (Point of Sale) system with an online, real-time reservation component for a low monthly fee. Includes training at your property.
*Base Business Exclusion (BBE) is based on your gross revenues for the previous 12 months.
Interested?
Please complete our application so we can better understand your needs.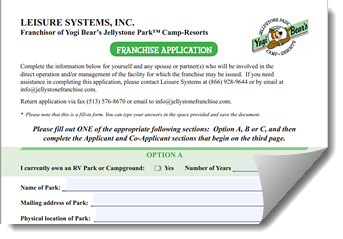 Roger & Anna Barry – Fremont, IN

When we joined the Jellystone Park™ system in 1980, we were a small operation without a plan. What we have learned through the years from LSI and our fellow Yogi Bear™ owners and operators has been extremely valuable. We now have over 500 sites, RV Sales, waterslides, and a seven family member team of owners and operating managers. We couldn't have done it w…
Learn More at Our WorkShop
Where:
Yogi Bear's Jellystone Park in Burleson, TX (near Dallas/Ft. Worth)
When:
September 16 & 17, 2017
Cost:
$350/couple which includes 2 nights in a Premium Luxury Cottage Cabin and lunch.
Space is limited!
Click here
for details and to register.