Want to Grow Your Business?
If you want to grow your business beyond just renting campsites, consider speaking with us.
Do you need to stand out from competitors in your area?
Do you need help meeting the needs of our changing industry?
All these are great reasons to join the Jellystone Park™ franchise. The power of the Yogi Bear™ brand, combined with LSI's training and support set you on the path to growing your campground or RV park business.
"I knew we couldn't generate the same level of marketing on our own," – Nancy Felber, Jellystone Park™ Mt. Gilead, OH
Although LSI does not guarantee a certain percent of growth, we have found that once a campground implements our brand and guidelines, they begin to see a positive impact.
"In most cases it's been significant growth from the beginning. 20 to 30 percent annually for the first 3-4 years." – Bruce Bryant, owner of 5 Jellystone Park™ locations
It's in our best interest to grow your business because the operating royalty with a Jellystone Park™ franchise is paid only on the increase in business. So if you don't make money, we don't make money. (Note: there is a 1.5% marketing royalty applicable to gross revenues.)
We have created a low-risk franchise package with no initiation fees. And there is no risk or obligation involved in discussing your business with a member of our sales team.
Ready to learn more?
Please complete our application so we can better understand your needs.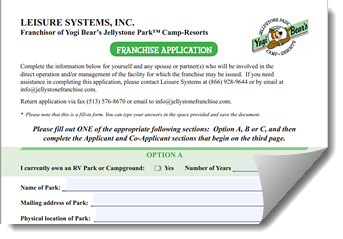 Denny Quigley & Tami Alessio – Harrisville, PA

2011 was our first year as a Jellystone Park™. Since then, we have definitely noticed that we are attracting a lot more guests from a much larger radius that extends nationwide. And we are seeing more guests from Canada. Over this three year time period, our store sales have increased almost 45%! The increased business also helped to allow us to do…
Denny Quigley & Tami Alessio
Learn More at Our WorkShop
Where:
Yogi Bear's Jellystone Park in Burleson, TX (Near Ft. Worth)
When:
September 16 & 17, 2017
Cost:
$350/couple which includes 2 nights in a Premium Luxury Cottage Cabin and lunch.
Space is limited!
Click here
for details and to register.