2018 Symposium
The annual Yogi Bear's Jellystone Park™ Symposium and Trade Show is the premier franchise event of the year. 2018 Symposium will be held from November 5-8 in Covington, Kentucky at the Embassy Suites Rivercenter and the Northern Kentucky Convention Center.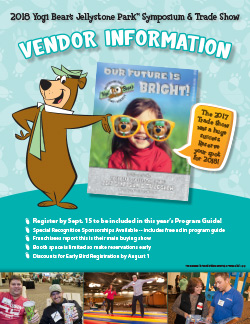 Trade Show
The trade show will be Tuesday, November 6th from 4:30pm – 7:30pm (vendor set up from 7:00am – 4:00pm) and Wednesday, November 7th from 9:00am – 4:00pm.
If you would like to be a vendor at the Yogi Bear's Jellystone Park™ Trade Show, please Download our Brochure and complete the registration form. Mail, fax or email the form to Leisure Systems, Inc. along with your payment.
Sponsors
A special thanks to our 2017 Symposium Sponsors!
Platinum Premier Sponsor – Stone Canyon Cabins
Awards Banquet – First Impression Sign Co. and USI Midwest
Opening Reception – SE Publications, Country Fresh Foods and Stone Canyon Cabins
Vendor Social – Rocky Top Log Furniture
Wednesday Luncheon – Gattuso Distributing
Beverage Service – Leavitt Recreation & Hospitality Insurance, Attractions Print, and Pioneer's Pride
Questions?
If you have any questions about Symposium, contact Dean Crawford at Leisure Systems, Inc.
Phone: 513.831.2100 x 7801 or
Rick Spear – Estes Park, CO

We've been in the Jellystone franchise system for 20 years this year. It was a family endeavor to begin with, but over those 20 years we've seen significant growth of our campground. In particular, just the last three years in a row we've been up double digits, 10-11% points three years in a row. We've really been coming on strong, and continue to see good grow…