Guests at 13 Jellystone Parks will see 90 percent or more of the Aug. 21 eclipse, while campers at the Jellystone Parks in Nashville, Tenn. and Eureka, Mo., near St. Louis, will see a total eclipse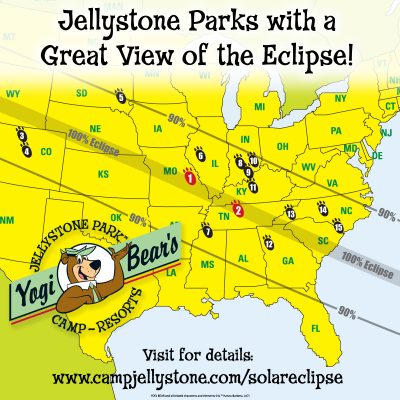 MILFORD, Ohio, Aug. 8, 2017 — There are 79 Jellystone Parks across North America, but 15 of them just happen to be in a perfect place to see 90 percent or more of the solar eclipse that is expected to take place on Monday, Aug. 21.
"Yogi Bear™, Boo Boo™, Ranger Smith™ and Cindy Bear™ are going to be outside wearing their protective glasses as they experience this historic event," said Michele Wisher, vice president of marketing for Milford, Ohio-based Leisure Systems, Inc., which franchises 79 Jellystone Parks across the U.S. and Canada.
She said the Jellystone Parks in Nashville, Tenn. and Eureka, Mo., near St. Louis, will experience a total eclipse of the sun, while 13 other Jellystone Parks will see at least 90 percent or more of eclipse.
Both parks have special activities planned for the occasion.
In addition to watching the eclipse, children at the Nashville Jellystone will be able to paint their own moon stones and go on a meteorite hunt. They will also make "Meteorite Snacks" out of cornflakes, peanut butter, syrup and chocolate chips and fill a time capsule full of letters, pictures and crafts that they make at the park.
Meanwhile, children staying at the Jellystone Park in Eureka will participate in an "Eclipse Watch Party." They will also be able to make "toothpick constellations, rocket crafts and a group solar system sidewalk art project," according to park owner Kathy Jones.
"We're also doing an activity where guests each write a note or draw a picture to be put into a park time capsule to be dug up and read during the next Solar Eclipse in 2024," she said.
The other Jellystone Parks that will see 90 percent or more of the eclipse are located in the following cities, which are listed from west to east as the eclipse moves across the country:
— Estes Park, Colo.
— Larkspur, Colo.
— Sioux Falls, S.D.
— Pittsfield, Ill.
— Memphis, Tenn.
— Bloomington, Ind.
— Scottsburg, Ind.
— Knightstown, Ind.
— Cave City, Ky.
— Bremen, Ga.
— Cherokee, N.C.
— Asheboro, N.C.
— Tabor City, N.C.
"We encourage people who would like to see the eclipse with Yogi Bear and friends to make their reservations as soon as possible," Wisher said, adding that more information is available at http://www.campjellystone.com/solareclipse/.
END