Jellystone Park™ Camping Franchise Offer
Whether you are converting, purchasing or building a campground, Leisure Systems Inc. has developed a camping franchise offer to make joining the Yogi Bear's Jellystone Park™ system even more enticing.
No initiation fee. (A savings of $20,000!)
A Conversion Package (valued at over $11,000) that includes: 10 foot Yogi Bear™ Statue, Yogi Bear™ Character Costume, Jellystone Park™ Entrance Sign Credit
Royalties of 6 percent are paid only on incremental gross revenues gained as a Jellystone Park™ after a Base Business Exclusion* is met. (There is a 1 percent Advertising royalty and .5 percent Club Yogi Rewards royalty applicable to all gross revenues.)
Access to profitable Yogi Bear™ merchandise to improve store sales.
Tools and Support for areas of

Merchandise

,

Operations

and

Marketing

.
Comprehensive training for the transition to a Jellystone Park™. Includes:

CAMP- Certification and Management Program
CARE- Caring About Recreation and Entertainment

A proprietary reservations, front office and POS (Point of Sale) system with an online, real-time reservation component for a low monthly fee. Includes training at your property.
*Base Business Exclusion (BBE) is based on your gross revenues for the previous 12 months.
Interested?
Review the details on the subsequent pages, then contact the Director of Franchise Sales & Development.
Park Locations
Click on the image below to view our locations across the U.S. and Canada.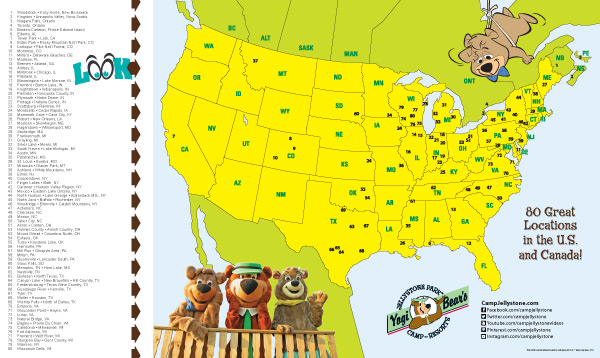 Bill Pott – Cave City, KY

I really like the way it brings me a nice class of customers. I get happy families. I get people who want to come and to spend money to have fun. They enjoy our park. It's just wonderful they way they come in, and you get so many that want to meet the other guests, they want to go have fun on the Jumping Pillow, then they want to go to the Splash Pad – and they want …
Learn More at Our WorkShop
SOLD OUT for 2017.
Where:
Yogi Bear's Jellystone Park in Burleson, TX (near Dallas/Ft. Worth)
When:
September 16 & 17, 2017
Cost:
$350/couple which includes 2 nights in a Premium Luxury Cottage Cabin and lunch.
Space is limited!
Click here
for details and to register.