Why Choose Us?
RV Park Franchise Growth
Camp Jellystone (CJS) is the only outdoor hospitality franchisor (RV park franchise, campground franchise) ranked on Entrepreneur magazine's "Franchise 500." With $108 million in sales in 2016, CJS was ranked 472 for its exceptional performance across several areas, including financial strength and stability, growth rate and brand power. This endorsement is just one of the reasons why partnering as an RV Park franchise with CJS is a sound decision.
In 2016, average park revenue topped $1.45 million. The top five Jellystone Parks grossed an average of $4.7 million.
Our inclusion in the Franchise 500® not only reflects the growing financial strength of the Jellystone Park franchise system, but rising consumer and investor awareness of Jellystone Parks as the family camping venue of choice across North America. Click here to read the full press release.
2016 Stats:
Same park revenues were up 11.6 percent during the first 10 months of this year, while overall park revenues, including parks that joined the Jellystone Park network this year, were up 13.3 percent.
Overall camper nights were up 12.8 percent during the same period, while weekday camper nights were up 3 percent, largely because families are booking more nights when they visit Jellystone Parks because of the growing array of activities that extend into shoulder seasons.
42 percent of Jellystone Park locations experienced double digit increases in revenue for 2016
Jellystone Park store revenues were also up 6.5 percent, largely reflecting increased demand for Yogi Bear themed merchandise, while ancillary revenue from activities and equipment rentals was up 6.1 percent.
Our commitment to growth is evidenced by our Base Business Exclusion (BBE), which calculates your operating royalty only on the increase in business as a Jellystone Park. It's in our best interest to grow your business, because that's how we make money too. The BBE is determined by your gross sales from the year prior to joining the franchise. You will only pay operating royalties on the incremental gross sales above the BBE derived from utilizing the Jellystone Park brand. (Note: A 1.5 percent marketing royalty is collected on gross revenues.)
Stability
The Jellystone Park franchise was founded in 1969 and continues to thrive. Our flagship location in Sturgeon Bay, Wisconsin, is still part of the franchise but now we're in 31 states and four provinces. Even during times of economic challenges, the franchise has grown both in locations and revenue. In fact, during the recession from 2006-2011 the average revenue per park grew by 10 percent and the number of locations grew from 65 to 77.
The Family Market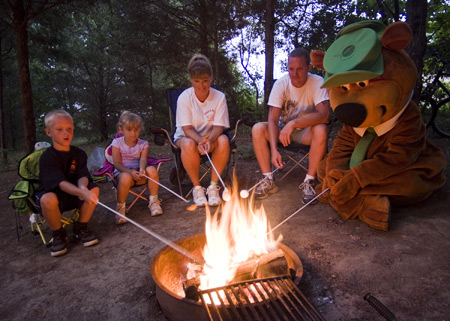 Jellystone Park is the only campground chain in the United States focused solely on the family demographic. Other organizations have recently realized the potential for marketing to families, but we have been doing it for nearly 50 years. Our experience, along with the uniqueness of the Yogi Bear™ and Jellystone Park trademarks, offers a special niche unmatched in the camping industry.
Campground Franchise Support & Training
CJS has a seasoned staff ready to assist your transition. In fact, several of the Operations staff have owned or managed a Jellystone Park RV park franchise – so they know first-hand the hard work and dedication it takes.
Our Leadership
Our campground franchise owners and operators are leaders in the industry and continue to push the envelope in terms of amenities and recreation available at their properties.
RV Park Franchisee Benefits
Become a Jellystone Park and you…
will capture the family market with a powerful, widely-recognized and trusted brand – Yogi Bear.
are provided with proven, comprehensive and proprietary training, operational and marketing support that has brought success to other operators.
can increase store sales with access to a quality line of unique and high-profit licensed merchandise.
will share in the experience and knowledge of Jellystone Park owners and operators in a cooperative – not competitive – environment.
keep your independence as an entrepreneur.
Denny Quigley & Tami Alessio – Harrisville, PA

2011 was our first year as a Jellystone Park™. Since then, we have definitely noticed that we are attracting a lot more guests from a much larger radius that extends nationwide. And we are seeing more guests from Canada. Over this three year time period, our store sales have increased almost 45%! The increased business also helped to allow us to do… Read more
Denny Quigley & Tami Alessio