A small army of campers will bang pots and pans together at 7:30 p.m. Friday, April 27 to wake up Yogi Bear™, Boo Boo™ and Cindy Bear™ to kick off the 2018 camping season at the Jellystone Park in Fort Atkinson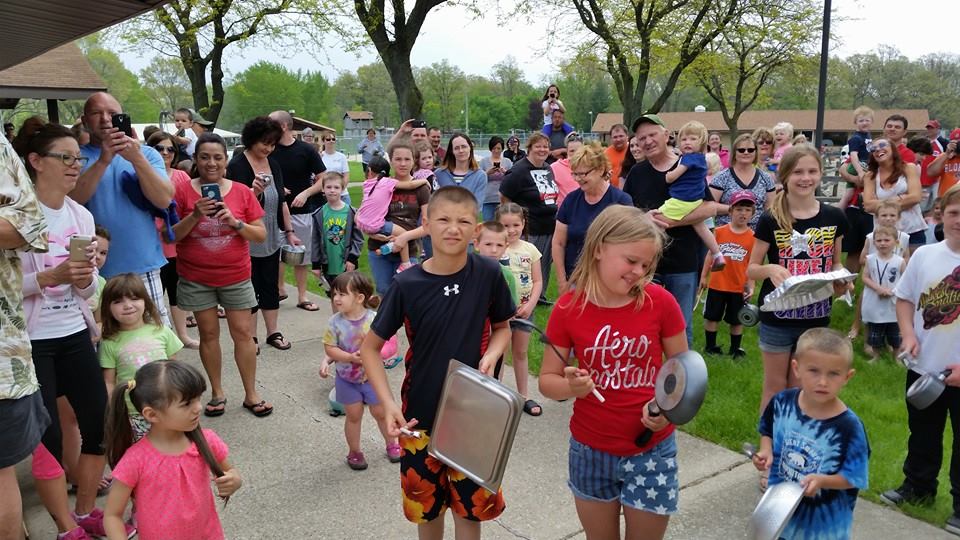 FORT ATKINSON, Wis., April 23, 2018 — It's been a long winter and Yogi Bear, Boo Boo and Cindy Bear have been enjoying their hibernation inside the activities hall at the Jellystone Park Camp-Resort.
But the bears' hibernation will come to an abrupt end at 7:30 p.m. Friday, April 27. That's when campers of all ages, armed with pots and pans, will parade over to the recreation center and, at the count of three, bang their cookware together to wake up the bears.
"The waking of the bears is our traditional way of kicking off the camping season at Jellystone Parks across the country," said Michele Wisher, vice president of marketing for Milford, Ohio-based Leisure Systems, Inc., which franchises 84 Jellystone Parks across the U.S. and Canada.
The timing of the waking of the bears depends on the location of each Jellystone Park, but in the Northern states it's usually around the end of April, Wisher said. "Once the bears are awake, Yogi Bear, Boo Boo and Cindy Bear can then take part in organized activities, which are scheduled throughout the camping season," Wisher said.
Only Jellystone Parks have Yogi Bear and Boo Boo, and children love to interact with them. Jellystone Parks are also famous for providing fun, family activities and themed weekends that include everything from crafts and games to wagon rides.
Themed weekend activities, such as Hawaiian weekends, often include limbo contests, sand castle building and a luau, while chocolate themed weekends include chocolate eating contests and chocolate Slip 'N Slides. Christmas in July weekends include campsite decorating contests, campsite caroling, cookie and ornament making activities. The increasingly popular Halloween themed weekends include costume and campsite decorating contests and trick or treating activities. All of these activities give Jellystone Parks the ability to provide families with experiences they can't find anywhere else.
The Jellystone Park in Fort Atkinson will also have a Sports Weekend Aug. 3-5 with a visit by Gilbert Brown, who was known as the "Gravedigger" during his days with the Green Bay Packers. Brown will MC a special event for Packers memorabilia, with proceeds being donated to the Gilbert Brown Foundation, which helps children with cancer and other illnesses as well as other organizations that make a positive difference in children's lives.
The Jellystone Park in Fort Atkinson has 569 campsites and 13 rental cabins. Amenities include an 18-hole miniature golf course, multiple playgrounds, two heated swimming pools, inflatable slides, bounce houses, a jumping pillow and jumping pad as well as a GaGa ball pit, a gem mining sluice and an RC car/truck track. The park also has a Pic-a-Nic Basket Snack Bar and a camp store with groceries and gifts. For more information, please visit www.jellystonefort.com
END