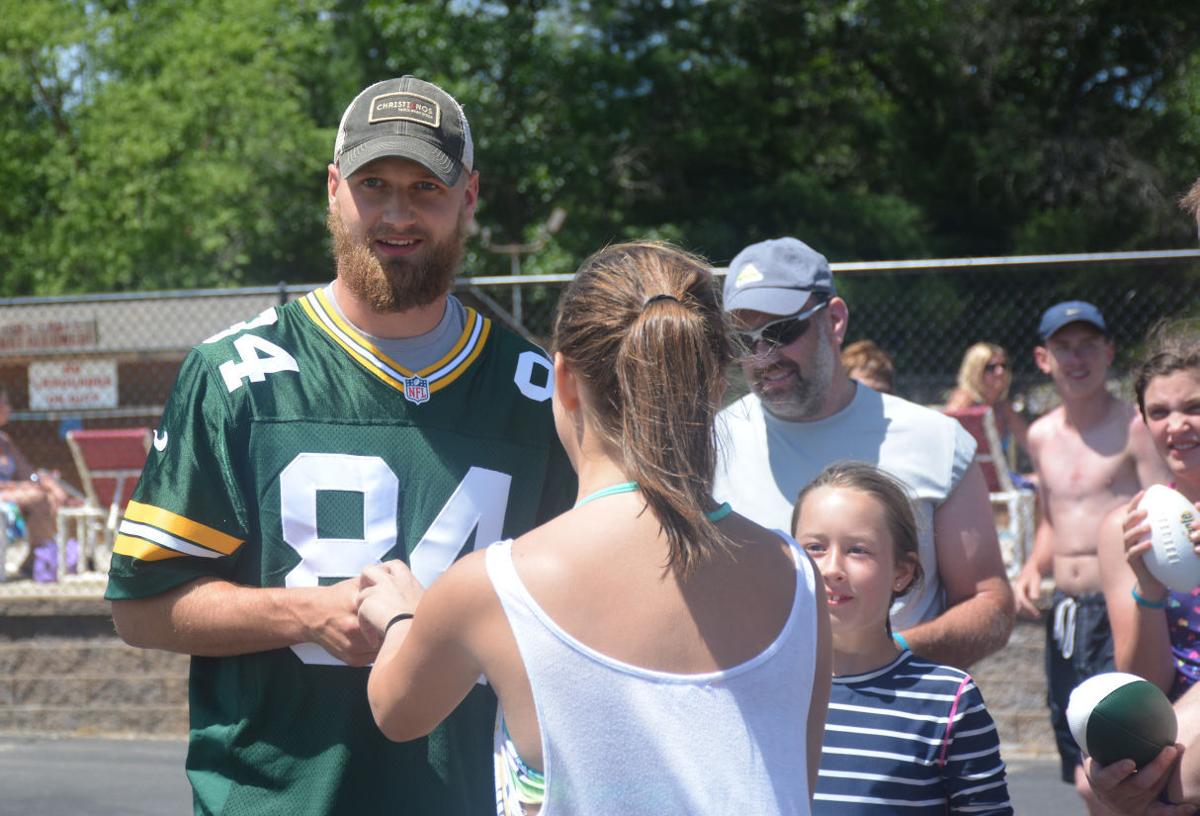 WARRENS — Lynn Richmond of Ryan, Iowa, and her family came to Yogi Bear's Jellystone Park and Campground for a vacation.
They got more than swimming and camping. While lounging around the pool and enjoying the sun Monday, they met members of the Green Bay Packers.
"We were in the pool and someone said, 'There's something going on over there,' and I saw the Packer bus and I jumped out (of the pool)," she said.
As a surprise visit on the Packers' 2016 Tailgate Tour, Packers' president and CEO Mark Murphy, linebackers Sam Barrington and Jayrone Elliott, wide receiver Jared Abbrederis, and former Packers players Leroy Butler, Robert Brooks and Sean Jones stopped to chat with people staying at the park.
Murphy said the tour is a fun experience. He said he and the players enjoy fanning out across Wisconsin and meeting Packers fans.
"We draw people out − even when we stop for lunch we'll end up with crowds, and it's fun seeing the look on (people's faces), especially kids," he said.
"It's fun seeing the smiles and seeing how enthused everybody is to meet us," he said. "I doubt it's like this for other teams and other cities. This is something I'm grateful for and will cherish for the rest of my life."
"I always knew that we had the best fans in the land − that was never in question − but now seeing how important we are to the community seeing people shed tears, it's a once-in-a-lifetime experience for a lot of fans.
He said it's important for the team to cover the entire state because "it's not easy for an individual or a family to interact with us if they don't live near Green Bay − who may live two, three or four hours away. We have the opportunity to see how important this is for them. Most of the time it's a surprise, and it can just make someone's day."
Campground visitor Lexi Holm said it was exciting to meet present and former Packers players.
"Its super cool that they came here. A lot of kids look up to them, and (it's) definitely a big hit for them," Holm said. "So it's cool being a big Packers fan that they showed up."
"I was playing basketball (with them)," he said. "It was really, really cool."
END