Jellystone Park™ Camp-Resort At Mammoth Cave Opens A 3.75-Acre Corn Maze
10.06.2016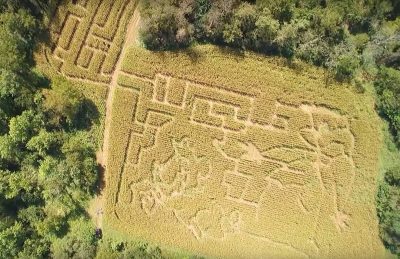 CAVE CITY, Ky., Oct. 5, 2016 — The Jellystone Park Camp-Resort of Mammoth Cave has opened a 3.75-acre corn maze, which is open to the public from 10 a.m. to 5 p.m. every Saturday and Sunday in October.
"Our guests love it. It's a great family activity," said Bill Pott, who co-owns the park with his wife, Kay and daughter, Emily.
While some say the maze is challenging, others say it's relatively easy.
"So far, the fastest time anyone has made it through the maze is 18 minutes, while the longest is 90 minutes," Pott said, adding that the first 50 guests each day receive a complimentary corn maze patch.
The Cave City park is sold out for camping every weekend this month, but the corn maze and haunted trail are open to the public on weekends, Pott said, adding that people should make their reservations early for the park's Halloween themed weekends in 2017.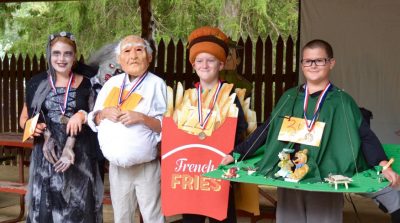 Other Halloween themed activities taking place at the park include pumpkin carving; costume, campsite and cabin decorating contests; and trick or treating.
Of course, there is also the magic of a Jellystone Park itself. Only Jellystone Parks have Yogi Bear and Boo Boo, and Jellystone Parks are famous for providing fun, family activities and themed weekends that include everything from crafts and games to wagon rides. Birthday parties with the bears and daily appearances by Yogi Bear are also very popular.
The Jellystone Park in Cave City also has a miniature golf course and a jumping pillow. The park has 125 campsites and 72 rental cabins. For more information, visit www.JellystoneMammothCave.com.
About Yogi Bear's Jellystone Park™ Camp-Resorts
Launched in 1969, the Jellystone Park™ system is the second largest chain of campgrounds in the United States, boasting 80+ campgrounds with more than 18,000 campsites and vacation rentals in 30 states and six Canadian provinces. Its Camp-Resorts are among the best campgrounds in the industry with a quality reputation for being fun, friendly, clean and service-oriented parks. Additionally, each Jellystone Park™ is themed with Yogi Bear™ elements providing instant recognition and consumer appeal. It is truly a place "Where You Camp With Friends."® Yogi Bear's Jellystone Park™ Camp-Resorts are franchised through Leisure Systems, Inc. (LSI), a wholly owned subsidiary of The Park River Corporation, Cincinnati, Ohio. For more information, visit http://www.campjellystone.com.
END