Unique activities include a "Howling at the Moon Contest" in Lower Woodstock, N.B. and a "Teen Food Fright" competition in Kingston, N.S.
Halloween is still more than three months away. But Jellystone Parks in Canada are already planning family-friendly Halloween themed activities throughout the month of August.
"Many families can't wait for Halloween," said Michele Wisher, vice president of marketing for Leisure Systems, Inc., which franchises Jellystone Parks across the U.S. and Canada.
"So we help them get into the spirit with unique activities like a 'Teen Food Fright' and a 'Howling at the Moon Contest.' We also offer Halloween-themed campsite and cabin decorating contests as well as costume contests and trick or treating in the campground."
Jellystone Park™ campgrounds also offer additional fun, family activities to celebrate Halloween, which complement their other unique themed weekend activities with Yogi Bear™ and Boo Boo™. Activities are described on each campground's website. Here's a sampling of upcoming Halloween themed activities at Jellystone Parks in Canada next month:
— Borden-Carleton, PEI: This park's Halloween themed activities are scheduled for Aug. 18 – 19 and include a foam machine activity as well as a Halloween themed movie and crafts. A Magical Pumpkin Weekend with similar activities will take place Sept. 22 – 23. Campground amenities include a gem mining sluice, a swimming pool, a 30-foot-tall inflatable water slide that is 74-feet long, pedal carts and a GaGa ball pit. www.jellystonepei.com
— Kingston, N.S.: This park's Halloween themed activities will take place Aug. 25 – 27 and include a "Teen Food Fright" in which teams compete against each other to see who can complete the frightening food tasks the fastest.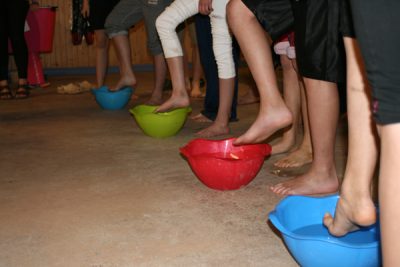 In round one, every member of each team is required to use their feet to pick out a marble from a bowl of cooked spaghetti. Once each team member has picked out their marble, they win. The team that finishes last or does not complete the challenge is eliminated.
In round two, each team is given a bowl with puzzle pieces in the
bottom. The bowl is filled with "gross foods" such as sardines, wet dog food and tomato sauce. On the count of three, each team member has to grab the bundle of puzzle pieces from the bottom of the bowl and bring their pieces to another table. One by one, each team member does this. Once all the pieces have been collected, the team can start building their puzzle. The last team to complete their puzzle is eliminated.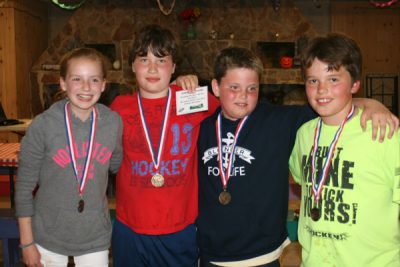 In round three, the final two teams have to race against each other to drink a blend of foods that, individually, taste great, but may not taste so wonderful when mixed with other foods. Each team member is given a cup that they must completely finish. The first team to have each member fully empty their cup wins.
Campground amenities include a gem mining sluice, two jumping pillows, a playground, a miniature golf course, a pancake shack and an amphitheater. The park has also built a new stage, refurbished its Canteen and given a facelift to all of its cabins. www.jellystonens.com
— Lower Woodstock, N.B.: This park's Halloween themed activities are scheduled for Aug. 11 – 13 and Aug. 18 – 20 and include a "Howling at the Moon Contest," a haunted pavilion and a Boogey Man Ball Costume Party. Campground amenities include a 12,000-square foot interactive multi-level water play structure with 37 interactive water play features plus 2 water slides. Other amenities include a jumping pillow, a jumping pad for little kids, an obstacle course, an 18-hole miniature golf course and a unique attraction called Target Tag. www.jellystoneparknb.com
— Niagara Falls, Ont.: This park's Halloween themed activities are scheduled for Sept. 1 – 5 and include a Monster Mash Dash and Halloween Carnival. A second Halloween themed weekend is set for Oct. 6 – 8. This park was named one of the top family campgrounds in Canada in the May 2017 issue of Today's Parent. Amenities include a heated pool, a 34-foot tall inflatable water slide, an 18-hole miniature golf course, an inflatable trampoline, a bocce ball court and an outdoor theater. This park also offers private shuttles to Niagara Falls as well as tour packages to the falls and other local attractions. www.jellystoneniagara.ca
— Toronto, Ont.: This park offers Halloween themed activities on the weekend of Aug. 4 – 6, which include a haunted house and ghost stories by the campfire. Campground amenities include a heated swimming pool, inflatable jump pad, a 9-hole miniature golf course, a beach sand volleyball court, pedal karts, an outdoor playground and nature walking trails. www.jellystonetoronto.com
END