MILFORD, Ohio, June 6, 2017 — Jellystone Parks across the United States and Canada have lined up a variety of unique activities to make this Father's Day a weekend they will always remember.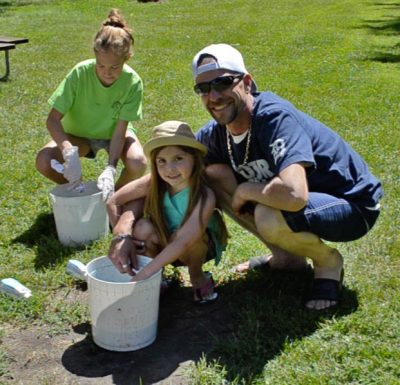 "We have everything from three legged races to father-child lookalike contests to Miss Jellystone competitions, when dads dress up in ladies attire to see who can generate the wildest response," said Michele Wisher, vice president of marketing for Leisure Systems, Inc. The Milford, Ohio-based company franchises 80 Jellystone Parks across North America, all of which have rental accommodations as well as RV and tent sites.
Jellystone Parks are famous for providing fun, family activities and themed weekends with Yogi Bear™, Boo Boo™ and Cindy Bear™. Here's a sampling of the diverse range of Father's Day weekend activities planned at Jellystone Parks in various cities across the United States and Canada:
— Big Prairie, Ohio: Activities include a corn hole tournament; a fishing tournament; crafts and activities to honor dads; plus, a best wings cooking contest for dads. www.whisperinghillsjellystone.com
— Bloomington, Indiana: Activities include a wet and wild water balloon face-off and the park's second annual Father's Day three legged and wheelbarrow races. www.lakemonroejellystone.com
— Niagara Falls, Ontario: This will be an "Around the World" themed weekend with Scottish Highland Games, Canadian bobsled races and sumo wrestling with the bears. www.jellystoneniagara.ca
— Cherokee, North Carolina: Activities include Father's Day card making activities and a talent show. www.jellystonecherokee.com
— Kingston, Nova Scotia: This will be a "Wild Wild West" themed weekend with lasso lessons with Boo Boo; potato sack races; bouncy horse rodeo races; and men's beer tasting. www.jellystonens.com
— Mill Run, Pennsylvania: Activities include the annual Yogi Bear Athletic Games, which give participants a chance to bobsled down a snowless tube track and compete against each other in swimming competitions. Dads will also be treated to a free dessert in the park restaurant. www.jellystonemillrun.com
— Nashville, Tennessee: Activities include family games and a dads versus kids pizza eating contest to compete for a free night of camping. www.nashvillejellystone.com
— Sturgeon Bay, Wisconsin: Activities include a big splash contest; a chocolate pudding eating contest — for those willing to eat without a spoon; and a DJ dance on Saturday night. www.doorcountyjellystone.com
— Tyler, Texas: Activities include a dad-child lookalike contest; crafts to honor dad; gem mining with dad and mini-golf games with dad on the park's miniature golf course. www.jellystoneatwhisperingpines.com
— Wichita Falls, Texas: Activities include a fathers versus kids tug of war; fishing tournaments; a belly flop contest; and a Miss Jellystone Park contest in which dads compete against each other wearing ladies attire. www.wichitafallsjellystone.com
For more information about Father's Day weekend activities at Jellystone Parks across the United States and Canada, please visit www.campjellystone.com.
END