Kansas City Designer Selected Wins The Jellystone Park™ Tiny Home RV Designer Challenge
Kristin Rieke of Rak'Designs will design three tiny house RVs, which will be available for rent this summer at Jellystone Parks in New York, Pennsylvania, Maryland and Virginia
02.16.2017
KANSAS CITY, Feb. 14, 2017 — Kristin Rieke normally works as a residential interior designer for custom homes in the greater Kansas City area.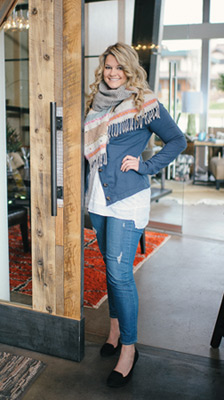 But this spring, Rieke has an exciting new project selecting interior and exterior color palettes and interior furnishings for three tiny house RV rentals, which will be available for rent this summer at select Jellystone Parks in New York, Pennsylvania, Maryland and Virginia.
"This is an incredible opportunity," said Rieke, an award winning designer who founded Rak'Designs 12 years ago.
Rieke was selected to design the tiny homes after winning the first Jellystone Park Tiny Home RV Designer Challenge, which is co-sponsored by Sonoma, Calif.-based Tumbleweed Tiny House Company, the nation's largest tiny home builder, and Northgate Resorts, which owns the Jellystone Parks where the tiny house RVs will be on display.
Rieke will be completing her designs for the tiny house RVs in the coming weeks, and the units will be available for rent this summer at Jellystone Parks in Gardiner, N. Y.; Quarryville, Penn.; Hagerstown, Md.; and Luray, Va.
The tiny houses, which sleep four to six, will include kitchens and bathrooms. They will be available for rent by consumers at each park using the following links: Gardiner, NY, Quarryville, PA, Hagerstown, MD, and Luray, VA.
About Tumbleweed
Founded in 1999, Tumbleweed Tiny House Company is at the forefront of the Tiny House movement. Tumbleweed provides a full range of products and solutions for the Tiny House enthusiast including fully built Tiny House RVs, Tiny House Shells, which are partially built RVs, trailers, building plans, workshops, How-To videos and more. Tumbleweed focuses on providing high quality products while allowing the customer as much control over their dream as they like. www.tumbleweedhouses.com
About Northgate Resorts
Northgate Resorts is a family-owned real estate company, based in Grand Rapids, Michigan. Dedicated to guest satisfaction and providing a family-friendly camping experience, Northgate owns and operates premier RV and cabin resorts throughout the country, including eight Jellystone Park locations. For more information on Northgate Resorts, please visit www.northgateresorts.com.
About Yogi Bear's Jellystone Park™ Camp-Resorts
Launched in 1969, the Jellystone Park™ system is the second largest chain of campgrounds in the United States, boasting 80+ campgrounds with more than 18,000 campsites and vacation rentals in 30 states and six Canadian provinces. Its Camp-Resorts are among the best campgrounds in the industry with a quality reputation for being fun, friendly, clean and service-oriented parks. Additionally, each Jellystone Park™ is themed with Yogi Bear™ elements providing instant recognition and consumer appeal. It is truly a place "Where You Camp With Friends."® Yogi Bear's Jellystone Park™ Camp-Resorts are franchised through Leisure Systems, Inc. (LSI), a wholly owned subsidiary of The Park River Corporation, Cincinnati, Ohio. For more information, visit http://www.campjellystone.com.
END