Owners Mert and Charlene Yoder have doubled production of their homemade ice cream and root beer during the past two years to keep up with demand
UNIONTOWN, Aug. 22, 2016 — It was a hot, Sunday afternoon when Susie Mullins was driving down Route 619 with her husband, Charlie, just outside of Uniontown.
That's when she spotted the sign that said "Homemade Ice Cream," which was set up in front of the Akron Canton Jellystone Park Camp-Resort at 12712 Hoover Avenue.
The 68-site campground, owned by the husband and wife team of Mert and Charlene Yoder, is one of only a handful of Jellystone Parks in North America that offers homemade ice cream and root beer.
And Mullins, who grew up enjoying homemade ice cream and root beer in the 1940s and 50s at her family's farm in Pennsylvania, wanted to see how the Yoders' ice cream and root beer measured up.
"It is fabulous," said Mullins, 73, adding that ever since she discovered homemade ice cream and root beer at the Jellystone Park three years ago, she has been a regular customer. She was there last week, in fact, to celebrate her birthday.
"I go over there more often than I should," said Mullins, who lives five miles away from the park in Uniontown. "It brings back fond memories."
Mullins' favorite is butter pecan.
"It's smooth and creamy and rich in butter flavor and has no shortage of large pieces of pecan. I think it is the best ice cream I've ever eaten," she said. "My grandkids just love it!"
Other local residents also admit they come to the park just to have ice cream, including Carrie Jarvis of Akron.
"It's definitely the best ice cream," Jarvis said. "I'm there almost every night just to get the ice cream."
Her favorite flavor?
"Their 'Coffee Toffee' is the best," Jarvis said. "Their 'Mudslide' is also really good. They also have a Grecian ice cream which is like an Italian ice cream with Baclava in it."
Bruce Clounie of Raleigh, N.C. stops by the Akron Canton Jellystone Park every time he visits family in Ohio.
"I really enjoy the homemade root beer," he said. "It's one of the things I look forward to whenever I go to Ohio. Strong may not be the right word to describe it. But robust is a good adjective. It has a robust, kind of woodsy flavor to it. It just tastes to me like old fashioned root beer. It has a very unique, eclectic taste, and is not like something you would get in a store."
And when he really feels like indulgence, Clounie orders a root beer float with homemade vanilla ice cream and homemade root beer. "It's really good," he said.
Kevin Chapman of Medina says he also visits the Akron Canton Jellystone Park to satisfy his cravings for root beer floats. "Their root beer floats are better than A & W," he said.
But Chapman also has another favorite homemade ice cream at Jellystone Park: Mint chocolate chip. "Ohhhhh is it good!" he said.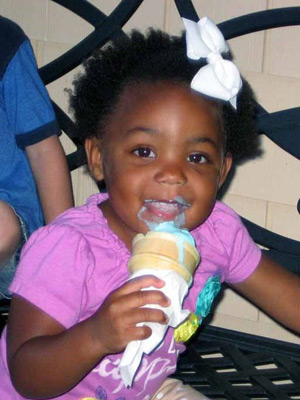 Mert Yoder said it was originally his idea to offer homemade ice cream and root beer. But it took a couple of years to convince Charlene to do it.
But ever since they started offering ice cream and root beer seven years ago, demand for the homemade products has doubled during the past two years.
"I can't keep up," Charlene Yoder said. "I have to make it every day! We are even starting to make it for weddings."
Charlene Yoder makes as many as 50 flavors of homemade ice cream during the 2016 camping season, which runs through Oct. 15. But she says only about 20 flavors are available on any particular day because everything is made fresh.
She added that an ice cream called "Muddy Paws" is the overall favorite of park guests. Named in honor of a favorite family golden retriever, "Muddy Paws" is a blend of chocolate ice cream with homemade brownies and pieces of Reece's Peanut Butter Cups.
Of course, people don't just come to the Akron Canton Jellystone Park for homemade ice cream and root beer. They also come to camp overnight and participate in the organized family activities and themed weekends with Yogi Bear, which help families create unique memories. Activities include arts and crafts, scavenger hunts, face painting, gem mining as well as evening campfires.
The themed weekends, which are scheduled from April through October, include four consecutive pre-Halloween themed weekends beginning Sept. 23 with costume and campsite decorating contests and trick or treating. On the last weekend of the season, the kids say goodbye to Yogi Bear as he is put to bed for his winter hibernation. In addition to RV and tent sites, the campground has five rental cabins. Day use passes are available for visitors who don't plan to spend the night. Information on park activities, amenities and rental accommodations is available at www.akroncantonjellystone.com.
END