Real Estate Investment Trusts Enjoy Revenue Flexibility with Corporate Structure
Yogi Bear's Jellystone Park™ Camp-Resorts are among the best campgrounds in the industry. Our model is unique, in that we are geared specifically to the lucrative family demographic. Our Camp Resorts are generally larger than the average campground; feature both campsites and cabins; have resort-style amenities and services; and are considered "destination" campgrounds. These factors, along with our high brand recognition, creates a valuable opportunity for Real Estate Investment Trusts.
If you are new to the camping industry, the Jellystone Park campground franchise has nearly 50 years of experience running successful, profitable campgrounds and can help you enter this market. We offer training, marketing, retail and operations support. Your locations will be assigned a Director of Operations who will work directly with your management team to ensure a smooth transition to the brand and provide ongoing strategy and consultation to increase sales. In addition, our franchisees work in a collaborative environment, so you'll draw from the experience of other owners and REIT companies.
Family Activities, Food Partnerships and Exclusive Merchandise Add to the Bottom Line
Real Estate Investment Trusts' campgrounds within the Jellystone Park franchise see an additional 26% in sales from ancillary revenue streams. Franchisees have capitalized on the family market's desire for resort-style amenities by adding splashpads, waterslides and indoor play courses, as well as outdoor paintball and laser tag facilities. These amenities allow a franchisee to either charge a premium for their campsites and cabins, or charge an extra per-person fee for amenity participation.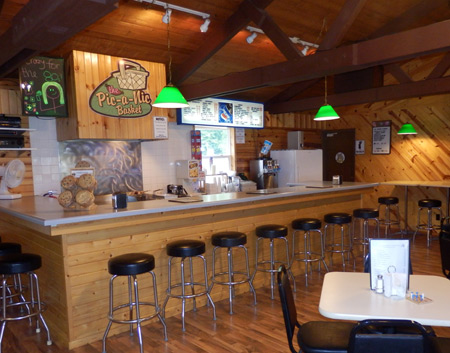 Each Jellystone Park offers at least one snack bar or restaurant with popular food items like Hunt Brothers® pizza, Nathan's Famous® Hot Dogs and ice cream. Since we are "destination" campgrounds – where guests stay on property for an average of 3 days – food service is a big opportunity for our franchisees.
In addition, our exclusive licensed products featuring Yogi Bear™, Boo Boo™, Cindy Bear™ and Ranger Smith™ allow Jellystone Parks to sell profitable merchandise not found at other campgrounds. There are over 500 custom items in the merchandise line and our retail team will help stock your store with must-have souvenirs for guests.
Advantages of Affiliation
Specific features Real Estate Investment Trusts enjoy by being affiliated with our nationally-recognized system include:
Operations, recreation and special events training and counseling
A quality line of unique, high-profit Yogi Bear merchandise with special payment terms
Spring Meetings and an annual Symposium Convention in the fall
Operations manuals covering all aspects of the campground business
Specialized training at C.A.M.P. (Certification And Management Program) for all new operators and managers entering our system, and at C.A.R.E. (Caring About Recreation and Entertainment) for all franchisee personnel responsible for recreation
2 weeks of in-house training at new parks
Use of the trademarks involving the Yogi Bear family of characters
Partnering in Club Yogi Rewards program, a consumer directed loyalty card
Digital marketing through our website www.campjellystone.com which contains information on all franchised locations
A secure franchisee portal for exclusive use by our operators
Online merchandise ordering capabilities
www.jpkid.com – children's oriented website with camping themed games and programs
Our specially designed in-park and online reservation system developed in cooperation with Campspot
Real Estate Investment Trusts within the Jellystone system believe that there is substantial untapped potential to increase their network due to the quality of the Jellystone Park system, the uniqueness of the Yogi Bear and Jellystone Park trademarks, and the need for campgrounds to have a strong competitive edge in today's environment. Camp Jellystone, the franchisor of Jellystone Parks, has worked in conjunction with Real Estate Investment Trusts to understand their ROI goals and develop business plans to take advantage of our brand's flexibility. REITs have appreciated the training structure we have in place to develop their managers and employees with ongoing education.
These variables were instrumental in helping Jellystone Park REITs achieve double digit growth in 2016. Talk to our Director of Franchise Sales & Development, to find out more.
Ray Aljets – Sioux Falls, SD

Three generations of my family have operated our Jellystone Park location and I can say with the utmost confidence that the Jellystone Park system has had a dramatic impact on our bottom line. Opportunities to increase guest satisfaction and revenue are everywhere and the creativity of those in the Jellystone Park system keep me on the leading edge of both the family … Read more