Real Estate Investment Trusts
Do you represent an investment group looking for a better ROI? Other REIT's have developed successful models with our franchise.
In 2016, Sun Communities (NYSE: SUI), Equity Lifestyle Properties (NYSE: ELS), and Northgate Resorts combined to finish the year with positive comp sales of 13.3 percent. Our family-oriented business model differs from traditional RV parks who feature seasonal camping or temporary housing. We cater to overnight guests – much like a hotel or resort.
One of the major differences in the overnight guest business model versus the traditional RV park model is the ancillary income earned through families spending within the park. A REIT in the Jellystone Park franchise derive 24 percent of their income from ancillary spending. In 2016, revenue per available room (REVPAR) was up over 13 percent as REIT's benefited from an increase in cabin rentals as well as discretionary spending within the park.
"In our due diligence of numerous parks across the country, we've discovered that the Jellystone Parks are some of the best operated, highest grossing and most profitable RV parks. Furthermore, the Jellystone Park brand and franchise standards have a tremendously loyal following. Not only are Jellystone Park guests loyal to a specific Jellystone Park, which often times experiences 50% or better repeat business, but to the Jellystone system in general. We see great value in having a customer base that is loyal to the Jellystone brand." – Zachary Bossenbroeck, Northgate Holdings CEO
Our REIT's are poised for continued success supported by strong growth in the RV manufacturing industry and a business model that excels in servicing the 30 – 39 year old demographic. In addition, REIT's in the Jellystone Park franchise have added features that appeal to this demographic and provide comfort and entertainment to guests. These include water amenities, cabins, tiny RV homes, and even a warrior-style obstacle course.
Contact us to find out more today.
(Published on marketwatch.com)
ELS Reports Second Quarter Results
CHICAGO, Jul 17, 2017 (BUSINESS WIRE) — Equity LifeStyle Properties, Inc. ELS, -0.37% (referred to herein as "we," "us," and "our") today announced results for the quarter and six months ended June 30, 2017. All per share results are reported on a fully diluted basis unless otherwise noted.
Financial Results for the Quarter and Six Months Ended June 30, 2017
For the quarter ended June 30, 2017, total revenues increased $11.2 million, or 5.3 percent, to $221.3 million compared to $210.1 million for the same period in 2016. Net income available for Common Stockholders for the quarter ended June 30, 2017 increased $4.0 million, or $0.03 per Common Share, to $39.5 million, or $0.45 per Common Share, compared to $35.5 million, or $0.42 per Common Share, for the same period in 2016.
For the six months ended June 30, 2017, total revenues increased $23.5 million, or 5.5 percent, to $453.7 million compared to $430.2 million for the same period in 2016. Net income available for Common Stockholders for the six months ended June 30, 2017 increased $10.3 million, or $0.10 per Common Share, to $96.4 million, or $1.11 per Common Share, compared to $86.1 million, or $1.01 per Common Share, for the same period in 2016.
(Published on REJournals.com, following an interview with Leisure Systems' Vice President of Operations Jim Westover.)
Getting Creative: CRE Investors Looking Closely at Campground Investments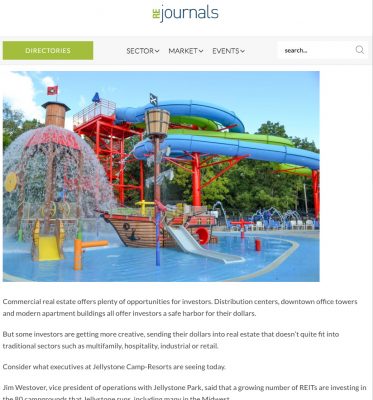 Commercial real estate offers plenty of opportunities for investors. Distribution centers, downtown office towers and modern apartment buildings all offer investors a safe harbor for their dollars.
But some investors are getting more creative, sending their dollars into real estate that doesn't quite fit into traditional sectors such as multifamily, hospitality, industrial or retail.
Consider what executives at Jellystone Camp-Resorts are seeing today.
Jim Westover, vice president of operations with Jellystone Park, said that a growing number of REITs are investing in the 80 campgrounds that Jellystone runs, including many in the Midwest.
They're doing this because they consider the kind of campgrounds Jellystone runs, family-friendly and catering to campers who aren't exactly hardcore outdoorsy types, to be safe investments, Westover said.
The REITs investing in such family campgrounds find that the revenue they earn from the short-term rentals in which these parks specialize is only one source of income.
"Spending with the park is what we get people to do," Westover said. "We get more dollars per night. We benefit from the ancillary income generated inside the park."
Westover said that each Jellystone park gets about 30 percent of its income from visitors buying souvenirs,
Then there are the added attractions. Many Jellystone campground sites feature extensive water parks and laser tag arenas. Others come with high-end cabins with flat-screen TVs and comfortable bedding.
A Success Story – Sun Communities
(Published on Woodall's Campground Management website, www.woodallscm.com.)
Shiffman: Sun's Prior Growth Push Now Paying Off
After Sun Commiunities Inc. released its quarterly earnings results Thursday (April 27), company executives participated in a conference call with investment analysts.
"I'm pleased to share that 2017 has gotten off to an excellent start," said Chairman and CEO Gary Shiffman. "While the quarter was a relatively quiet one from an external-growth perspective, our prior hard work on that front, coupled with our best-in-class operating platform and focus on sustained internal growth allowed Sun to deliver 22% FFO (funds from operations) per-share growth, a growth rate that we are certainly very proud of."
Brent Fannin – Delaware Beaches

2011 was our first year as a Yogi Bear's Jellystone Park™. We saw record occupancy levels with increases of more than 35% year over year! The addition of nine cabins to our park yielded occupancy levels well over 90% each weekend! The conversion to a Jellystone Park™ did exactly what we expected – it grew our business.