Training
Training programs are provided at no cost to franchisees! Camp Jellystone (CJS) has created extensive training programs for both new and experienced Jellystone Park™ owners. We strive to keep our owners and operators on the forefront of the camping industry through a variety education opportunities including conferences, seminars on hot topics, notable speakers and a resource library.
Certification and Management Program (CAMP) – An in-depth program for new owners and managers. This four-day event provides training on running a campground, plus all the unique aspects that make it the Yogi Bear™ way. Attendees learn everything from how to determine site rates for maximizing occupancy, to merchandising tips for increasing store sales.
Caring About Recreation and Entertainment (CARE) – Learn from the best in the outdoor hospitality industry! Whether you need to start or improve a recreation program, you'll come away with real-life examples that work for your park size and staff. Some new parks are intimidated by recreation programs, but we'll help you create a plan that starts small and grows with your business. In addition, you'll develop relationships with other activity staff who will help guide you and answer questions.
NSPF Certified Pool Operators (CPO) Course – Taught each spring by the best in aquatics safety and customer care, this course provides in-depth instruction in all facets of aquatic facility operation and management. Upon completion of the course and exam, attendees receive the official CPO certification.
Spring Meeting – Designed to get you pumped up and ready for the season, our Spring Meeting is a one-day conference packed with useful seminars, franchise updates and networking opportunities.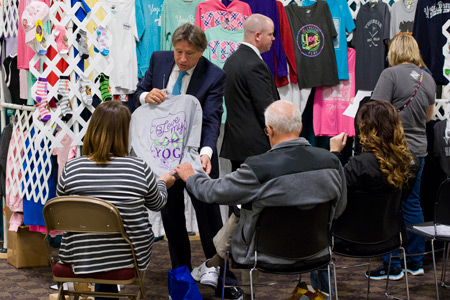 Symposium & Trade Show – The premier franchise event of the year, this 3-4 day conference is where franchisees gather to learn the latest in the industry and franchise, purchase the upcoming season's Yogi Bear™ merchandise, meet and place orders with a wide selection of vendors, network with fellow franchisees and of course, have fun! Click here for more information about our Symposium and Trade Show.
Operations Manual & Resource Material – In addition to face-to-face meetings, CJS provides an operations manual and resource material for running your campground with proven results. We also house numerous videos and books great for staff training.
Online Business Learning – Online courses with levels for both management and staff training. It's an easy way to get your staff up to speed on important topics like customer service and OSHA.
*Franchisee is responsible for travel and hotel expenses. There is a nominal fee for the CPO course to cover materials.
Denny Quigley & Tami Alessio – Harrisville, PA

2011 was our first year as a Jellystone Park™. Since then, we have definitely noticed that we are attracting a lot more guests from a much larger radius that extends nationwide. And we are seeing more guests from Canada. Over this three year time period, our store sales have increased almost 45%! The increased business also helped to allow us to do… Read more
Denny Quigley & Tami Alessio