Purchasing a Campground
Many people who camp at Yogi Bear's Jellystone Park™ Camp-Resorts inquire about what it takes to enter the RV Park and Campground business. As you may imagine, owning a campground is quite different from enjoying the experience at one. As an owner, your job is to create magical experiences for families, which requires a new set of business skills that our franchise can assist you with.
One of the most affordable ways to become a Jellystone Park™ is to buy a campground that might be a "sleeper" – one that has most of the required amenities but needs fixing up. To find Jellystone Park campgrounds for sale, see the current list below.
To find properties outside our network, do an internet search using the words "Campgrounds for Sale."  You'll see a list of national brokers who are familiar with the Jellystone Park™ system and can assist you with finding the right property.  You can also visit www.ARVC.org – the website for the National Association for RV Parks and Campgrounds – for information on the RV Park and Campground industry. ARVC has a list of brokers they recommend as well.
Jellystone Park Campgrounds for Sale
Here is a list of current Jellystone Park™ campgrounds for sale:
Required Amenities
In order to maintain the high standards of operation that Jellystone Park™ guests expect, we require certain amenities to be in place or an expansion plan that includes:
minimum 70 sites and 4 rental units
store/registration area
pool
modern comfort stations and laundry
pavilion/recreation center
playground equipment
theatre
arcade/game room
planned activities program
dump station
Evaluation
Once you found a campground you are interested in purchasing, we are happy to help you evaluate its readiness to join the Jellystone Park™ franchise. If you are ready for that step, please complete our application so we can better understand your needs.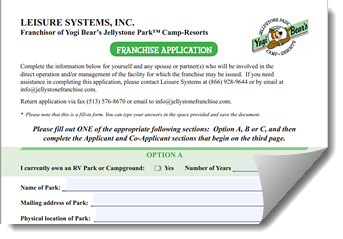 Joey Coleman & Rick Coleman – Tabor City, NC

In 2001, we began a unique challenge to build a campground on our family farm 35 miles inland from Myrtle Beach. People responded to our design of large concrete pads, full hook-ups, plenty of open space, and ultimate customer service. But we soon had "growing pains" with procedures and operations.

In 2003, we joined Jellystone Park™. The operations…
Joey Coleman & Rick Coleman
Learn More at Our WorkShop
Where:
Yogi Bear's Jellystone Park in Burleson, TX (near Dallas/Ft. Worth)
When:
September 16 & 17, 2017
Cost:
$350/couple which includes 2 nights in a Premium Luxury Cottage Cabin and lunch.
Space is limited!
Click here
for details and to register.