Converting a Campground to a Jellystone Park™
The most common way a campground joins the Jellystone Park franchise is through conversion.
If you are a current campground owner facing one or more of these challenges…
You are working harder, but sales remain flat.
You want to grow your business beyond renting campsites.
You need to separate your campground from the competition.
You would like to change your customers to more family-friendly campers.
We welcome the opportunity to talk to you! The Jellystone Park model has solutions to these challenges. Our branding power, combined with nearly 50 years of successful franchising, can help take your business to the next level.
"Becoming part of the franchise catapulted us years ahead of where we would have been if we tried this on our own." – Steve Stafford, North Texas Jellystone Park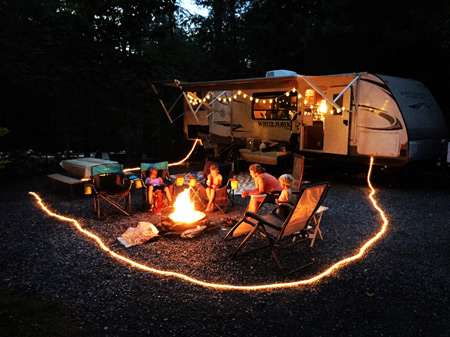 Jellystone Park™ Camp-Resorts are among the best campgrounds in the industry. We have a quality reputation for being fun, friendly, clean and service-oriented parks that on average have a higher revenue per site night and a longer average stay than that experienced by other campgrounds – independent or franchised.
Our operating concept includes special amenities and recreation facilities designed to appeal to the entire family. Additionally, each Jellystone Park is themed with Yogi Bear™ elements providing instant recognition and consumer appeal. Add in the marketing support provided by CJS and you have a winning combination!
What is a Camp-Resort?
There are approximately 12,000 campgrounds in North America including 7,500 privately owned and 4,500 operated by the US Park Service or other national or local government organizations. Most campgrounds are relatively small, but there are more than 1,500 parks with over 70 sites. Approximately 500 of these larger facilities are classified as "Camp Resorts."
Camp Resorts have special amenities including swimming pools, miniature golf courses, game rooms, and other recreational facilities and are designed for longer stays of three or more days. These are the parks we are targeting for possible conversion to the franchise.
Required Amenities
In order to maintain the high standards of operation that Jellystone Park guests expect, we require certain amenities to be in place or an expansion plan that includes:
minimum 125 RV sites and four rental units
3-5 yr. business plan (Director of Franchise Sales can assist you with this)
store/registration area
pool
modern comfort stations and laundry
pavilion/recreation center
playground equipment
theatre
planned activities program
dump station
Royalty Structure
Camp Jellystone is committed to growing your business. That's why our operating royalty is paid only the increase in revenue you experience as a Jellystone Park. We set a Base Business Exclusion, which is based on your campground revenue before converting. Other franchise systems may exclude prior customers, but we take it a step further and exclude the revenue as a whole. Please note, the Base Business Exclusion applies to your operating royalty only. There is a 1.5 percent marketing royalty paid on all revenues so that we can immediately impact your business through our robust marketing programs.
Conversion Process & Next Steps
We've created a document to walk you through the process step by step – from location approval to your Grand Opening as a Jellystone Park! Download the Conversion Process map so you can have a better understanding of what is expected. A typical conversion takes 2-3 months.
The first step in the conversion process is to contact the Director of Franchise Sales & Development, who will ensure your property is in an open territory.
To get started, fill out our Contact form.
Resources
Want to know how much your royalty payment may be as a Jellystone Park? We've created a handy document that you can download: Example of Royalty Structure.
Denny Quigley & Tami Alessio – Harrisville, PA

2011 was our first year as a Jellystone Park™. Since then, we have definitely noticed that we are attracting a lot more guests from a much larger radius that extends nationwide. And we are seeing more guests from Canada. Over this three year time period, our store sales have increased almost 45%! The increased business also helped to allow us to do… Read more
Denny Quigley & Tami Alessio